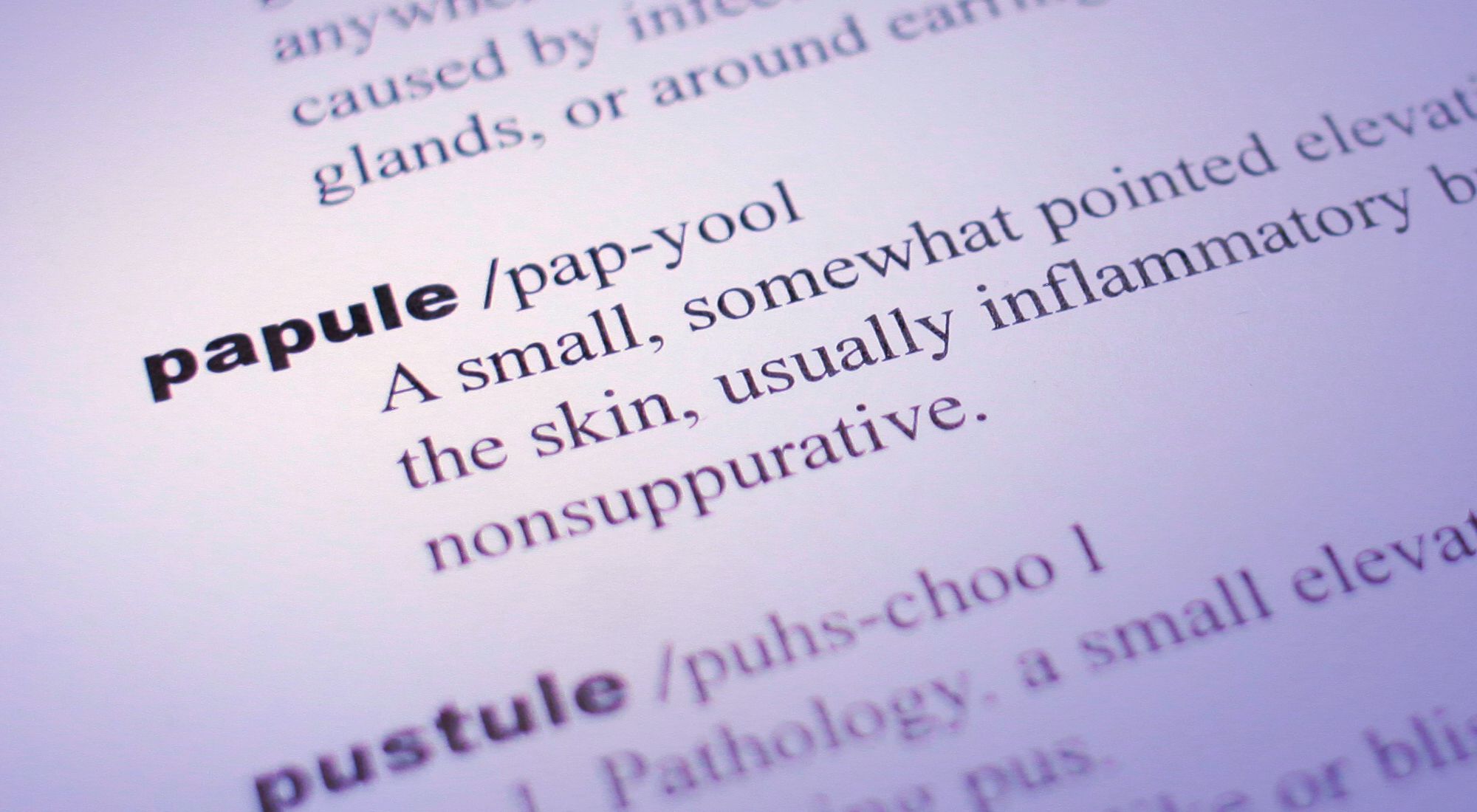 Papules and Pustule
When a pore clogs and P. acnes bacteria multiply in the pore, the immune system reacts by sending in white blood cells to fight the infection. The surrounding area becomes inflamed, red and swollen. This is called inflammatory acne. It is different from blackheads or whiteheads, which are types of acne that are not characterized by redness and inflammation. The two most common types of inflammatory acne are papules and pustules.
What Are Papules and Pustules?
Papules are small pink or red dome-shaped bumps that are easy to see on the skin. They have distinct borders and can appear in a variety of shapes, most often on the face. Sometimes these papules cluster together to form what looks like a rash and feels rough like sandpaper.
A pustule is the medical term for the classic pimple. Pustules are like papules except they are filled with yellowish liquid pus forming a yellow or white center. The pus is composed of dead white blood cells that were sent by the body to fight infection.
What Causes Acne Papules and Pustules?
Like most forms of acne, papules and pustules are the result of an increase in oil and bacteria trapped inside the pore by dead skin cells. Papules occur when the clogging causes a hair follicle to become inflamed. When this happens, the body's immune system sends white blood cells to fight the infection. The pus develops when the white blood cells die and collect inside the papule turning it into a pustule.
How to Get Rid of Papules and Pustules
Getting rid of papules, pustules and all forms of acne begins with a daily skincare regimen that includes an acne active treatment like the ones provided by Proactiv® Solution and the Proactiv+ 3-Step System. Many people can benefit from a daily, consistent acne treatment to help get rid of papules and pustules and prevent future breakouts.
Additionally, a few simple lifestyle changes can help control papules and pustules:
Do not scrub your skin during cleaning; be gentle.
Use warm, not hot, water and gentle soaps.
Avoid putting makeup or lotions on the affected area.
Proactiv® Products for Papules and Pustules
Many Proactiv products include benzoyl peroxide or salicylic acid, two ingredients that have been shown to be effective for helping treat and prevent mild-to-moderate acne (including papules and pustules). Also sulfur, kaolin or green clay, are some other ingredients that can help draw out impurities and shrink blemishes.
The Proactiv® Solution 3-Step acne treatment system includes benzoyl peroxide (BPO) in the Renewing Cleanser (Step 1) and the Repairing Treatment (Step 3). These two products can help fight and prevent papules and pustules.
The Proactiv+ 3-Step System also addresses papules and pustules. The Proactiv+ Skin Smoothing Exfoliator (Step 1) has the pore-clearing abilities of benzoyl peroxide, which can penetrate the follicle and encourage the shedding of dead skin cells, helping to reduce papules and pustules. BPO is also found in the Pore Targeting Treatment (Step 2)
Also consider these other Proactiv products to help get rid of papules and pustules:
Proactiv Deep Cleansing Wash: Our Deep Cleansing Wash is a gentle, all-over body cleanser that helps lift away dead skin cells, while its 2% salicylic acid helps unclog pores and reduce oiliness to clear acne and prevent future breakouts wherever they may occur.
Proactiv Advanced Daily Oil Control: Formulated for acne-prone skin, our Advanced Daily Oil Control instantly eliminates surface shine and helps reduce breakouts using salicylic acid. Lightweight, oil-free and non-comedogenic, the treatment absorbs quickly and helps the skin to stay soft, smooth and hydrated without looking or feeling greasy.
Proactiv Emergency Blemish Relief: This invisible spot treatment is designed to speed the healing of a problem pimple with an emergency dose of 2.5% benzoyl peroxide. It starts killing acne-causing bacteria on contact, while conditioning ingredients help hydrate, soothe and calm dry skin.
Proactiv Skin Purifying Mask: The Proactiv Skin Purifying Mask can also help treat papules and pustules. Its cooling kaolin clay helps to refine pores while maximum-strength sulfur helps battle papules and pustules. The mask also has a special blend of antioxidants and botanicals designed to moisturize and condition the skin.
Proactiv Deep Cleansing Brush: Cleansing by hand may not be enough. Our doctor-developed facial brush is portable, cordless and water-resistant and designed to help decongest pores. This dual-speed device has continuous 360-degree rotation and comes with two brush attachments and two speeds to customize the level of deep cleansing to gently remove the dead skin cells that can clog pores.
Papules and Pustules: The Bottom Line
Papules and pustules are the two most common types of inflammatory acne, or pimples. Both are red, inflamed bumps but pustules are filled with a yellowish liquid pus. Both papules and pustules react well to acne treatments containing salicylic acid and benzoyl peroxide.